If you're a fan of the Star Wars franchise, you probably know that their anniversary is May 4 (May the 4th be with you, dear reader). Fortnite first collaborated with Star Wars back in Chapter 2 Season 1, when they've introduced the largely controversial lightsabers in the game for a week, aside from a great selection of skins in the item shop and even a free Star Wars glider for Winterfest 2019.
Since then, we've had the Mandalorian and the Child introduced back in Chapter 2 Season 5, and some new skins like Rey, Kylo Ren, and so on, but this year, Fortnite has decided to surprise us once more when the May 4th's Item Shop reset not only brought back the Star Wars cosmetics in the Item Shop, but also a new set of challenges to complete (for a banner and some good amount of XP).




Fortnite has also added back the Lightsabers for a whole week, including Obi-Wan Kenobi's blue lightsaber.
May The 4th (Star Wars) Challenges
The challenges introduced with this update are the following:
Land at Stormtrooper Checkpoint, then place Top 25 – Gives 30.000 XP
Complete a bounty from Stormtrooper – Gives 30.000 XP
Block 10 hits using a Lightsaber – Gives 30.000 XP
Damage Opponents within 30 meters using E-11 Blaster Rifle (1000 damage) – Gives 30.000 XP
Drive a vehicle from Chonker's Speedway or Logjam Lumberyard to a Stormtrooper checkpoint – Gives 30.000 XP
Survive storm phases while carrying a Lightsaber (5 phases) –  Gives 30.000 XP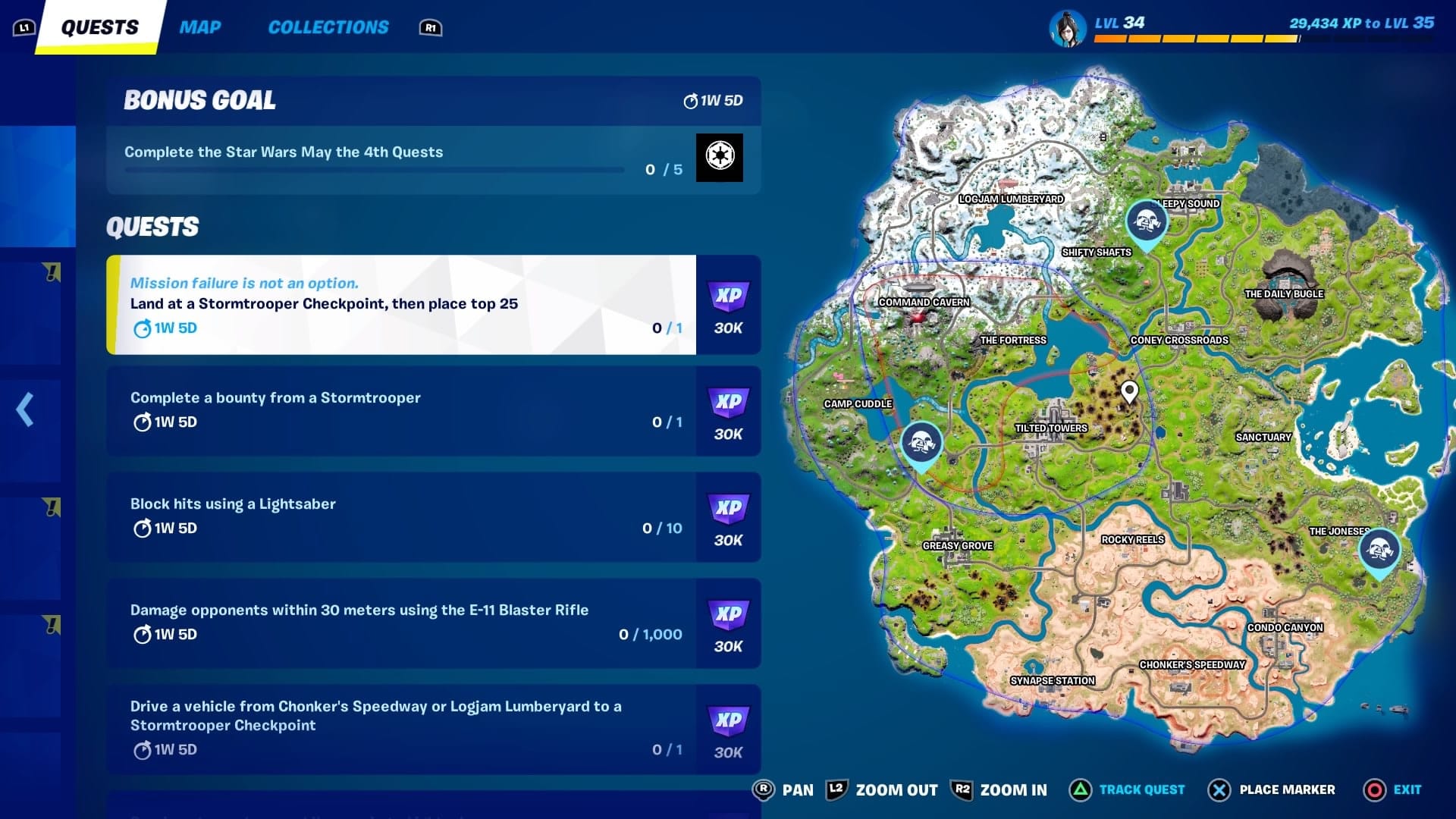 As a bonus reward, completing 5 of the quests above will give you The Empire Banner reward.
The Empire Banner is apparently under the "The Seven" set pic.twitter.com/lmYn7dhDNO

— iFireMonkey (@iFireMonkey) May 3, 2022
There currently are 3 Stormtrooper Checkpoints you can land on the map. They're usually in the middle of the road and spawn 2 normal yellow chests. There are 2 Stormtroopers at every checkpoint, but they are friendly and won't shoot unless provoked.




The Stormtroopers from the checkpoints can either give you a bounty or they can sell you the E-11 Blaster Rifle (Mythical) which costs 600 Gold Bars and is required to complete some of the Star Wars quests.
Other Fortnite Guides: