Following the Genshin Impact 4.0 Special Program, users can expect plenty of new features in the next Fontaine update. With its arrival, HoYoverse officials will provide a chance to receive Lynette for free, as long as the prerequisite is met. Lynette is a new Anemo character that works as a support to her magician brother Lyney.
Her powers were also revealed during the latest Livestream, indicating the possibility of her as an Anemo Sub-DPS role in future team combinations. Here's all you need to know about Lynette in Genshin Impact, including how to get her for free.
How To Obtain Lynette for Free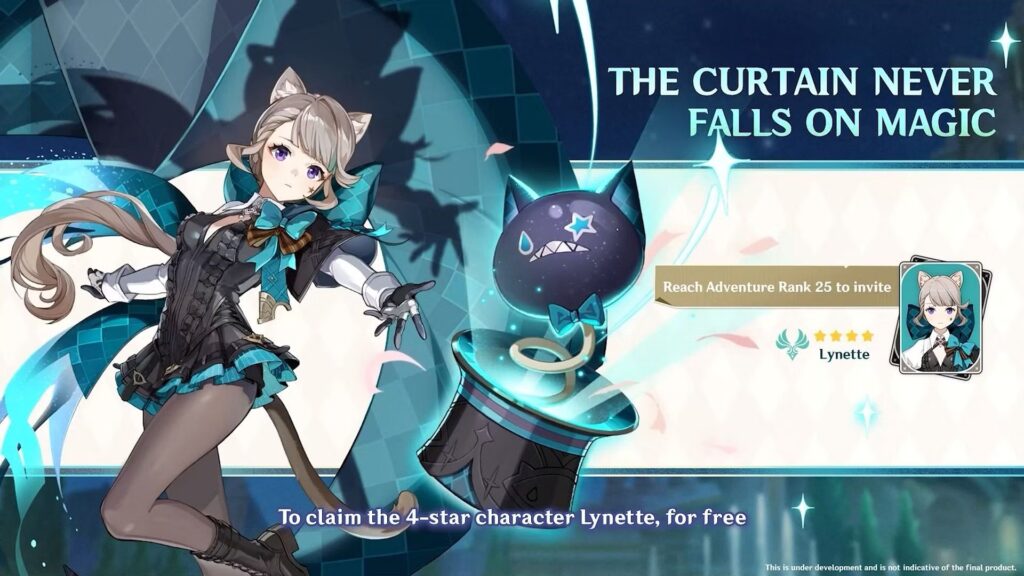 During the 4.0 Special Program on the official Twitch channel, HoYoverse devs revealed that players may acquire a free copy of Lynette by earning Adventure Rank (AR) 25. Because the criterion is modest, both novice and experienced players can participate.
During the Genshin Impact 4.0 update, a new special event page will arise where players may claim their free Lynette. Those who have previously attained AR 25 will be able to claim her straight away via the event page tab. However, if your AR is less than 25, the claim button will be deactivated. This gives players a certain length of time to accomplish the prerequisite for claiming their free character, which is simple to achieve by just following the main narrative.
More Details about Lynette in Genshin Impact
According to the official releases, Lynette is a 4-star Anemo sword user who will act as a sub-DPS, assisting primary damage dealers. She may produce powerful swirl reactions during battles as someone with Anemo vision can initiate and intensify elemental reactions.
Fontaine and its Genshin Impact characters will also debut the new Ousia and Pneuma mechanics. These mechanisms have distinct qualities and can be employed to solve puzzles or combat looming monsters. Lynette's Elemental Skill can inflict an Ousia-aligned assault on Pneuma-powered opponents, perhaps paralyzing or slowing them.
In conclusion, Genshin Impact players will have a fantastic opportunity to receive a free character in the upcoming 4.0 update. Lynette's varied skill set will provide her access to the new gameplay mechanisms in the new location.
When the upgrade officially launches on August 16, 2023, travelers may expect to go on new adventures with Lynette and experience the interesting gaming mechanics of the Fontaine region.
Other Game Guides: