How to collect research books from Holly Hedges and Pleasant Park is the topic of this walkthrough. Follow along and you will have the quest completed in no time!
This is a weekly rare quest (purple) introduced recently in Fortnite Season 6 Chapter 2. It's rather simple to do but it does take time because there are 8 different research books you have to gather, 4 from Pleasant Park and 4 from Holly Hedges, so at the very least this challenge will take you over 2 matches to complete. This quest is given by Rebirth Raven and it's actually the quest 1 out of 4 in the same mission.
The research books quest is not new. We had a similar quest at the beginning of the season when you had to gather literature books for Lara Croft from Pleasant Park, Lazy Lake, and so on. The books look the same when you find them for both quests and they usually are in the same houses too at Pleasant Park.
The spawn rate for these books seems to be consistent. Unlike NPCs, chests, or ammo boxes, these quest items always seem to spawn in the same place and with a 100% spawn rate.
Upon completion, this quest gives you 24.000 XP points towards your Battle Pass level and unlocks stage 2 of the quest.
How to get the research books from Holly Hedges and Pleasant Park?
The books are all on the ground level of the houses. Never upstairs or in the basement. If you enter a house and there's no book in any of the ground-level rooms, don't bother going upstairs or in the basement as there will be no books there.
The books are blue with some sort of badge or shield icon on them. They glow blue and cast a blue light in the room which can sometimes be seen even through walls. They also make a sound specific to quest items. It doesn't sound like a chest, but it's a similar, more subtle sound you hear when you enter a house that has a research book nearby.
Where are the research books from Holly Hedges and Pleasant Park?
The books are split into two sets of four books. The First 4 books are all in Pleasant Park, one book per house. The second set of 4 books are in Holly Hedges, each book in a different house.
In Pleasant Park, most books are in the houses situated on the northern side of Pleasant Park, but they could spawn on the rest of the houses too.
In Holly Hedges, the books are scattered in the residential houses from all cardinal points. The only building where you will never find a book is the marketplace/store from the middle of Holly Hedges.
Notes: The books never spawn outside of the houses. They are always inside on the ground level.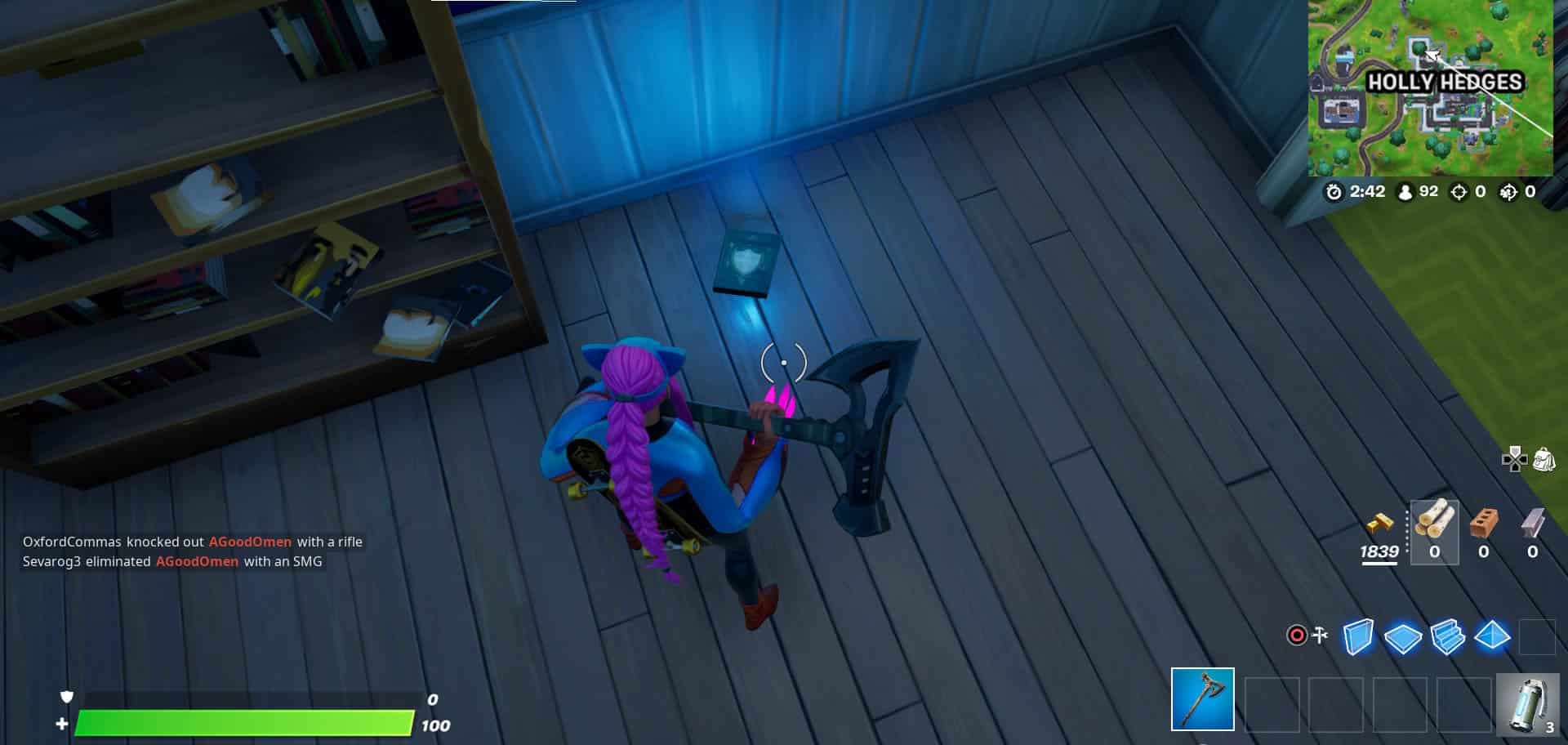 This quest takes place in two of the busiest zones on the map. Both Pleasant Park and Holly Hedges are hot drops for most players, so expect a lot of encounters while looking for the books because, at first, other players may wanna do the same quest, and second, the locations are very popular and people will drop there anyways.
I suggest landing on top of a house, getting some loot first, maybe a shield, and only then venturing to find the books. Another good strategy is to land on top of a house, stock up with weapons, and wait a few minutes until people are done fighting and looting.
Stay somewhere hidden in meantime, like in an attic or a bush. Once they are done fighting each other and looting, you are free to get your books because to get all 4 you will need to travel the city from house to house which could be dangerous in the heat of the fights.
In the following video, I show you how to gather the research books at Holly Hedges, and you can also see how much of an active warzone this place is.
Once you have all 8 books, you will be able to complete the first stage of this quest and you will unlock the second level. With this, you will also get 24.000 XP towards your Battle Pass level, and +1 completed Epic Quest towards the Battle Pass cosmetics that require you to complete a certain number of Epic quests, such as Neymar JR's additional styles, etc.
Upon completion, you will receive a notification that confirms the fact that the challenge has been successfully completed.

If you're on a quest completing spree, check out the other Fortnite quests guides we've put together for this season, for even more XP and cosmetic rewards!