What are the NPCs in Fortnite Battle Royale?
The NPCs are characters that can be found on the map. They were first introduced in Chapter 2 Season 5, and they are often peaceful unless you damage them. The NPCs change with each season, some NPCs are introduced, while others get removed from the game. You can interact with them, and they will give you various things such as:
Quests
Heals
Weapons
Information about the next storm phase
Rift-To-Go



If a player eliminates an NPC, it will respawn as a ghost and you can still interact with it.
Fortnite: All NPC Locations on Fortnite Chapter 2 Season 8 Map
The NPCs can be found all over the map. Please consult the list below, or the map photo below:
Baba Yaga can be found in the Southwest of Sludgy Swamp.
Big Mouth can be found inside the Pizza Pit restaurant in the north of Corny Crops.
Fabio Sparklemane is available in Apres Ski, southwest of Misty Meadows.
Dark Jonsey is in the western building at Steamy Stacks.
Kor is available on the eastern side of Misty Meadows.
Dusk can be found near Primal Pond in the west of Lazy Lake.
Torin is near the Cap'n Carp Delivery Truck, north of The Aftermath.
Grim Fable can be found in the UFO crash site east of Weeping Woods.
Kitbash is at Dirty Docks.
Madcap is in the east of Corny Crops.
Nitehare is on a hill, east of Craggy Cliffs.
Penny can be found near the bridge leading west of Retail Row.
Pitstop is at the northeast corner of Boney Burbs.
Charlotte can be found on the southeast houses at Pleasant Park.
Raven can be found at Hydro 16, east of Sludgy Swamp.
Scuba Jonsey is on the beach west of Coral Castle.
Cube Assassin is inside sideways as a boss that spawns randomly, she will attack on sight.
J.B.Chimpanski can be found in the southeast mountains near the Weather Station.
Toona Fish appears at Viking Vessel, west of Holly Hedges.
The Brat appears outside the Fork Knife Food Truck, north of Lazy Lake.
Warth is inside Sealthy Stronghold.
Dire spawns inside a building on Camp Cod.
Ragsy spawns at Risky Reels.
Ariana Grande appears at Believer Beach.
Ember is at the Scenic Spot, northwest of Corny Crops.
Sledgehammer can be found near Flopper Pond, on the east of Holly Hedges.
Please consult the map below, courtesy of fortnite.gg, to see all NPC locations.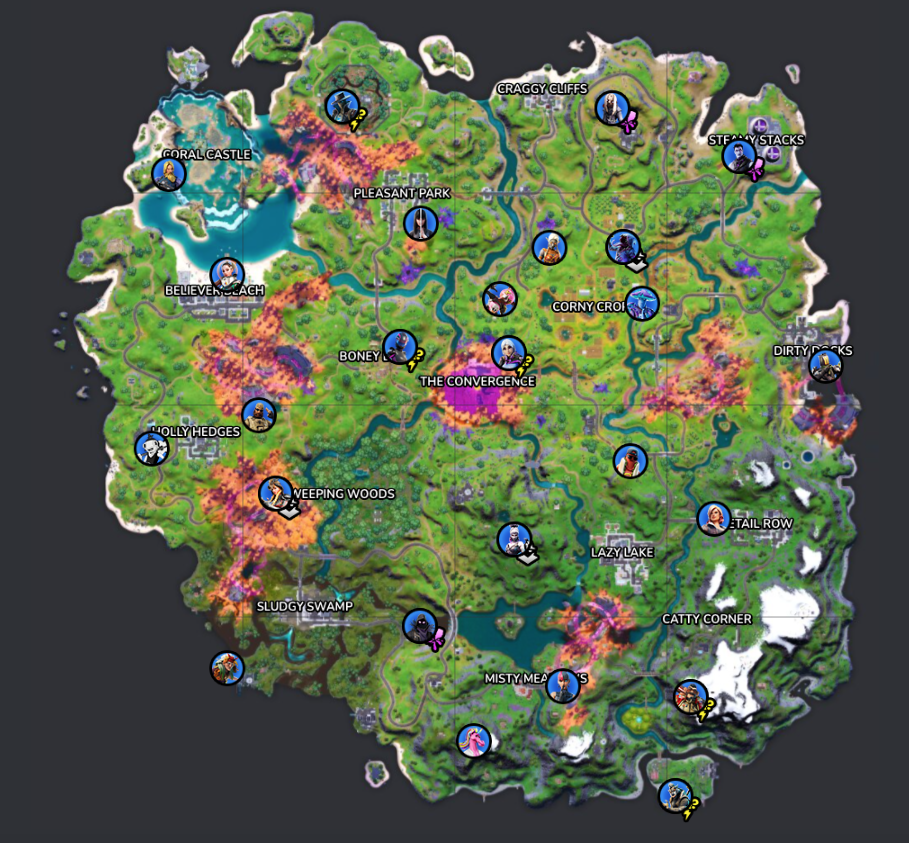 Wanna learn how to grab a few levels worth of XP for free by just sitting in Creative every day? Check out our guide!