What is FNCS?
FNCS stands for Fortnite Champion Series which is the largest PvP competitive event in Fortnite. Not anybody gets to play in FNCS. The event has qualifier matches before the real ones take place and only the best performing players get to the Semifinals and to the Finals. The event is largely streamed on Twitch, YouTube, and many other platforms including Epic Games' own website. It's one of the largest esports events.
FNCS takes place every new season in Fortnite and it is split into multiple smaller events that people who qualify can play. The event progression is usually split into multiple FNCS events available in the Competitive tab in the game.




In Season 6 Chapter 2 FNCS matches are in the following order:
FNCS Qualifier 1 (April 22nd – 25th)
FNCS Qualifier 2 (April 29th – May 2nd)
FNCS Qualifier 3 (May 6th – 9th)
FNCS Semi-finals (May 21st – 23rd)
FNCS Reboot (May 22nd – 23rd)
FNCS Finals (May 28th – 30th)
As you can imagine, you have to advance through the qualifiers, get to the semi-finals or the reboot and only then you'd be invited to play the Finals. It's the place where the sweatiest most talented Fortnite Competitive players test their mettle.
Where can I watch FNCS?
A large variety of streamers across the world stream themselves playing the FNCS events and you can watch a large part of them on Twitch by searching for Fortnite.
Of course, there are other methods as well, such as YouTube or even Epic's website, but if you want the free cosmetics as part of Twitch Drops which are given away each season, you must watch a Drops enabled Twitch stream during the FNCS events (while they are live).




If you start watching from the Qualifier, you should get 1 cosmetic per event week. However, you can wait to watch the finals and get all cosmetics at the same time, however, if you miss the finals you will never be able to get the cosmetics.
Epic Games has made the official FNCS schedule available for all regions on their blog.
Twitch Drops are back! Tune in to any supported channel this FNCS to receive Twitch Drops. Be sure to link your Epic and Twitch accounts within 14 days of claiming your Drop reward to be processed: https://t.co/zrYWqry2At pic.twitter.com/Lzw35lsXKf

— Fortnite Competitive (@FNCompetitive) April 30, 2021
How can I get my free FNCS Twitch Drops?
First and foremost, make sure your Twitch account and your Epic Games account are linked together, and they haven't been linked for more than 6 months. If they have, unlink and re-link them on the official Epic Games account settings page.
After this, all you have to do is to watch a "Drops Enabled" streamer on Twitch while the FNCS events unfold. Usually, you only have to watch between 15 – 30 minutes of the stream. The channel has to have drops enabled. You can usually tell if they do because they have "DROPS ENABLED" in the title of the stream or the description while they are live.
You can tackle this in two ways. Either you watch every week and get a cosmetic per week unlocked, or you watch only the Finals when all cosmetics get credited to your account.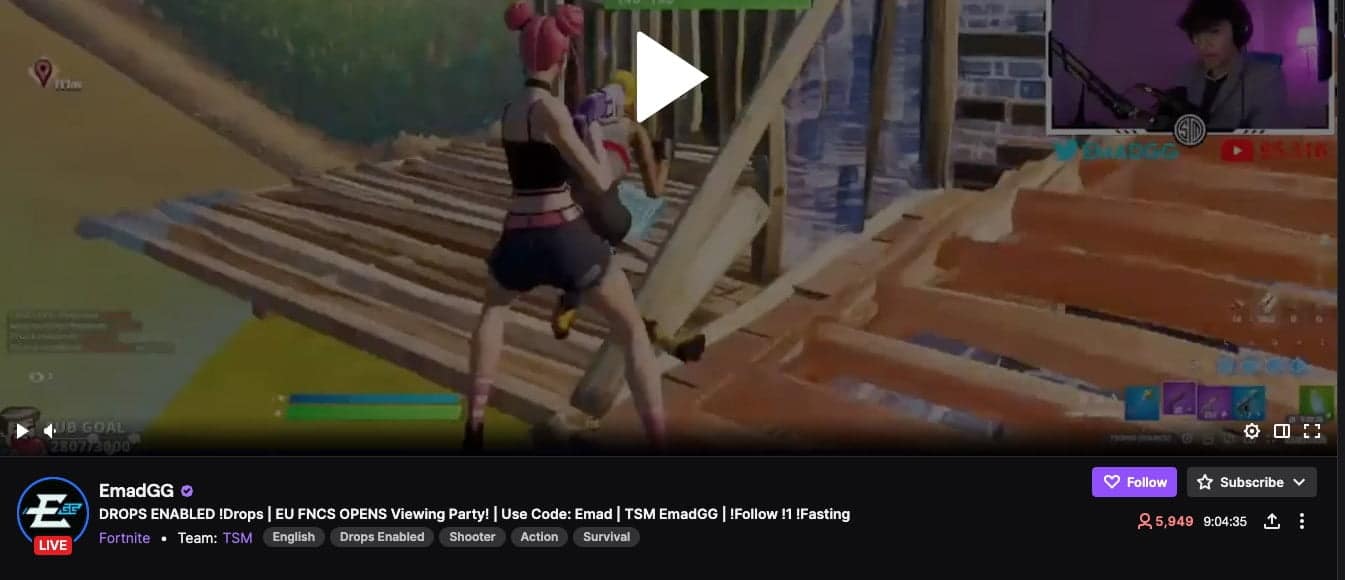 What is included in the free Twitch Drops on Season 6 Chapter 2?
As part of Fortnite's FNCS Twitch Drops, you will get for free a few in-game cosmetics that are FNCS-themed. This has been a tradition for quite a while now and each season the color of the cosmetics is different to match the color scheme of the FNCS event and the season in general.
The cosmetics usually tend to depict either the FNCS logo, a victory foam hand, or the fabled FNCS Champion pickaxe which is bestowed to the absolute champion who wins FNCS Finals this season.
While each season has different cosmetics, here's what you get for free in the Twitch Drops this season:
Foam hand back bling (Purple edit style)
Tarana spray
Loading screen depicting statues holding the FNCS Champion Pickaxe
GG emoticon with the FNCS crest
Note: If you don't already own the foam hand back bling from the previous drops, it will be given to you for the first time this season, but you will not have the Pink and Orange edit styles for it (those were from Season 4 and Season 5). You will, however, get the default Blue style too.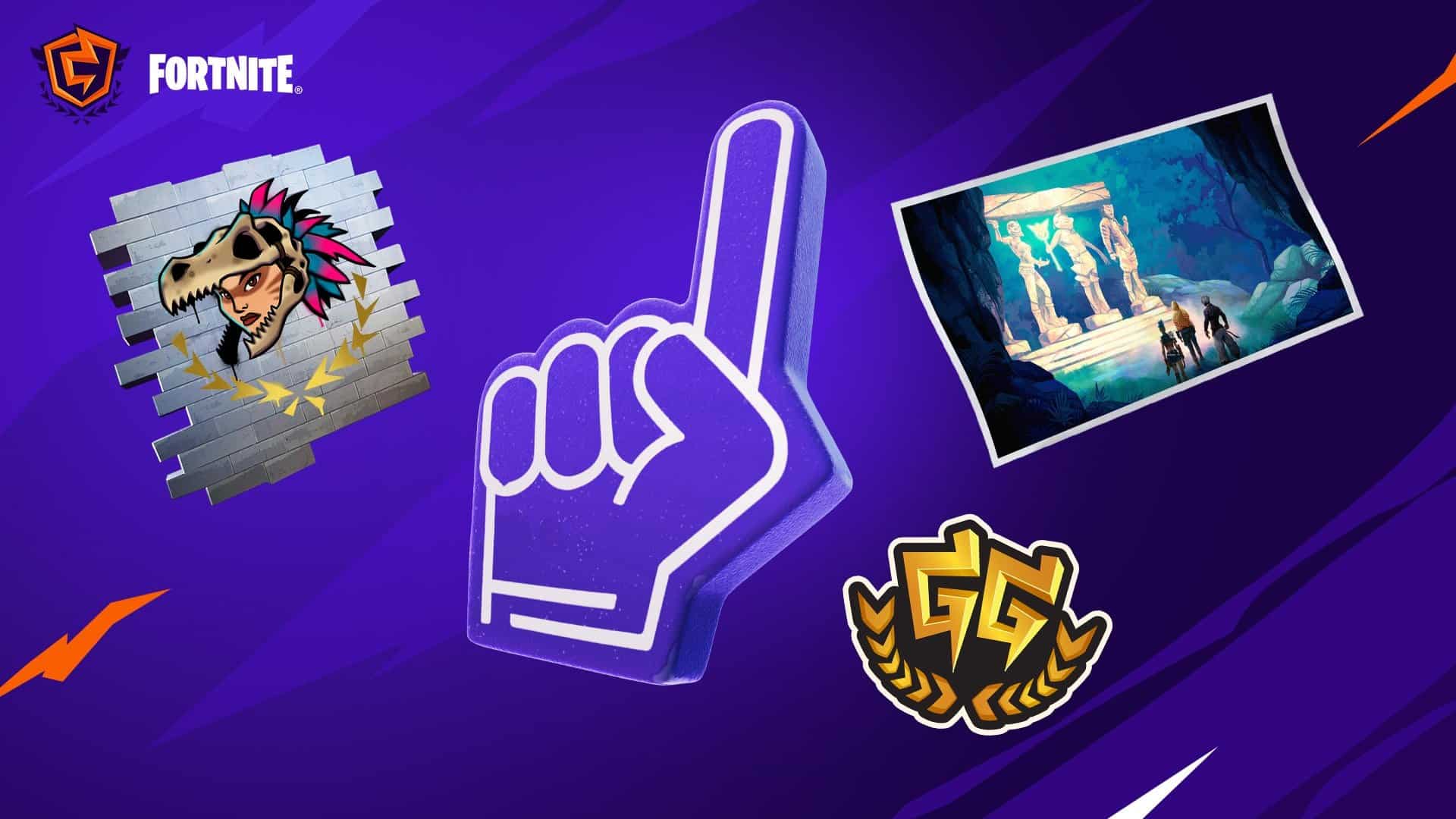 After watching for at least 30 minutes of the FNCS live stream on a Drops-Enabled channel, you should receive your reward. If you don't immediately get it, quit the game and reload it. You should get a notification while the game loads, that tells you "purchased items are waiting for you".
Once the game fully loads, you will be greeted by a screen that is thanking you for watching the FNCS stream on Twitch and shows what you've earned. Just click "Collect" and that's all. Make sure to get all of them.