One of the most well-known open-world action-adventure games is Grand Theft Auto V, which provides players with an immersive virtual environment to explore, cause havoc on, and operate a variety of cars. GTA 5 has various vehicles, from flamboyant sports cars to strong supercars. In order to help you get the most out of your virtual driving experience, in this post we'll examine the top 10 greatest vehicles in Grand Theft Auto V, taking into account their speed, handling, appearance, and overall performance.
Pegassi Zentorno
The Pegassi Zentorno is an absolute beast, a testament to Italian engineering and design. This mid-engine supercar is inspired by Lamborghini Veneno, making it one of the fastest cars in the game. Its sleek and aerodynamic body allows it to glide effortlessly through the streets of Los Santos, while its exceptional acceleration and handling offer superior performance in both races and getaways.
Annis Elegy RH8
Fans adore the Annis Elegy RH8 for its affordability and its all-around performance. This Japanese sports vehicle, which was inspired by the Nissan GT-R, has superb handling and traction. The Elegy RH8 is a popular alternative for people who wish to customize their vehicles since it also has a wide range of shifting choices.
Truffade Adder
The Truffade Adder is a luxurious hypercar and one of the fastest vehicles in GTA 5. With its Bugatti Veyron-inspired design, the Adder reaches staggering speeds, making it the ideal choice for racing enthusiasts. Although it comes with a hefty price tag, the Adder's speed and eye-catching appearance make it worth every virtual penny.
Pfister 811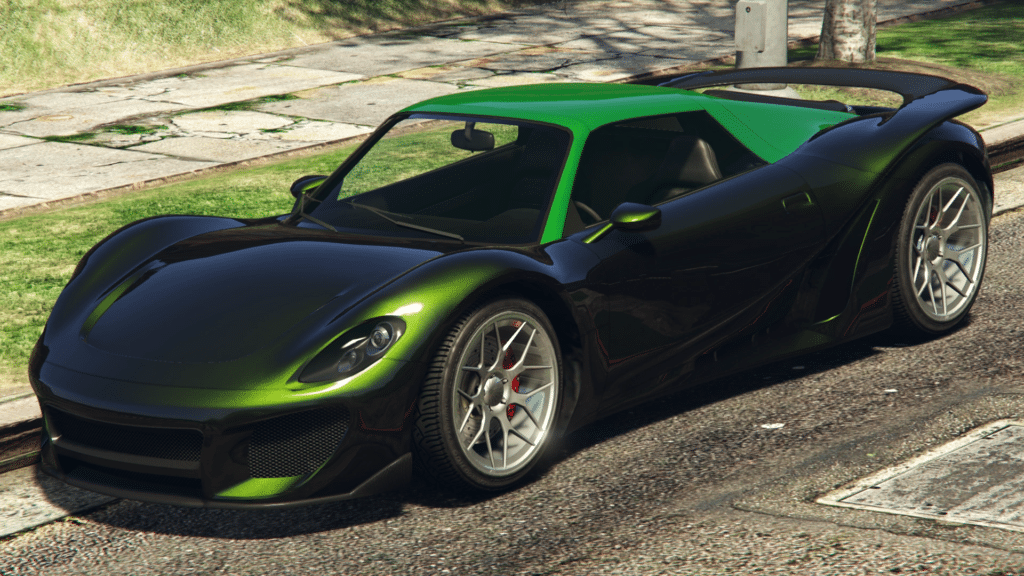 The Pfister 811 is the best option for enthusiasts looking for a distinctive driving experience. The Porsche 918 Spyder served as inspiration for the unique design of this electric supercar. The 811 is a tough competitor in both races and chases for its phenomenal acceleration and peak speed.
Overflod Entity XXR
The Overflod Entity XXR is a combination of speed, style, and agility. Inspired by the Koenigsegg One:1, this hypercar showcases unparalleled performance, making it a force to be reckoned with in races. Its advanced aerodynamics and precision steering ensure a smooth and exhilarating ride through the streets of Los Santos.
Grotti Turismo R
The Grotti Turismo R is another iconic supercar featured in GTA 5. This sleek beauty, resembling the Ferrari LaFerrari, boasts impressive speed and handling, making it perfect for those who crave a thrilling and luxurious ride. The Turismo R's balanced performance makes it an excellent all-rounder for various in-game activities.
Pegassi Tempesta
The Pegassi Tempesta is the epitome of a finely tuned sports car. Inspired by the Lamborghini Huracán, this sleek vehicle offers excellent handling and acceleration. Its precise cornering ability and smooth handling make it a top choice for both casual driving and competitive racing.
Dewbauchee Vagner
The Dewbauchee Vagner stands out for its exceptional handling and superior traction. Modeled after the Aston Martin Valkyrie, this car's performance makes it a favorite among GTA 5 racing enthusiasts. Whether navigating sharp turns or zipping through straights, the Vagner's stability and speed will not disappoint.
Benefactor Krieger
The Benefactor Krieger is a Mercedes-AMG One-inspired German-engineered masterwork. The Krieger is designed for high-speed pursuits and exhilarating racing, thanks to its aggressive design and outstanding acceleration. Its sturdy build and clean lines make it an aesthetically appealing option as well.
Progen Emerus
The Progen Emerus exudes elegance and power, taking inspiration from the McLaren Senna. As one of the fastest cars in GTA 5, the Emerus offers incredible top speed and acceleration, making it a formidable contender on any racetrack. Its sleek lines and sleek body give it a modern and striking appearance.
Conclusion:
In the vast and thrilling world of Grand Theft Auto V, driving around in style and speed is part of the allure. The top 10 best cars listed here offer a diverse range of options, from hypercars to sports cars, each delivering a unique driving experience. Whether you prefer blazing through the streets or showcasing your ride in style, these cars will undoubtedly elevate your GTA 5 experience to new heights of excitement and fun. Remember, in the world of GTA 5, the journey is just as important as the destination, so buckle up and hit the virtual roads!
Other Game Guides: