If you have a PlayStation Plus subscription, you are probably aware that every month Sony is giving you 2-3 games for free for you to download and play at any time while your PlayStation Plus subscription remains active. Is it a good deal?
More or less. The collection of games you receive every month can range from AAA titles like Uncharted 4: A Thief's End or Shadow Of The Tomb Raider, to sub-par indie games nobody cares about or ever heard of. Don't get me wrong, indie games can be fun and addicting too, but most of the games Sony has given us on Plus in 2021 were not. Gone are the days when you could actually get AAA games every month with your Plus subscription.




However, in January 2022 we have a nice surprise from Sony. This month's selection of games is not bad at all.
January 2022 PlayStation Plus Monthly Free Games
In January 2022, PlayStation Plus subscribers can get for free the following games:
Persona® 5 Strikers
DIRT 5 (Both PS4 and PS5)
Deep Rock Galactic 
Not necessarily a bad assortment of games.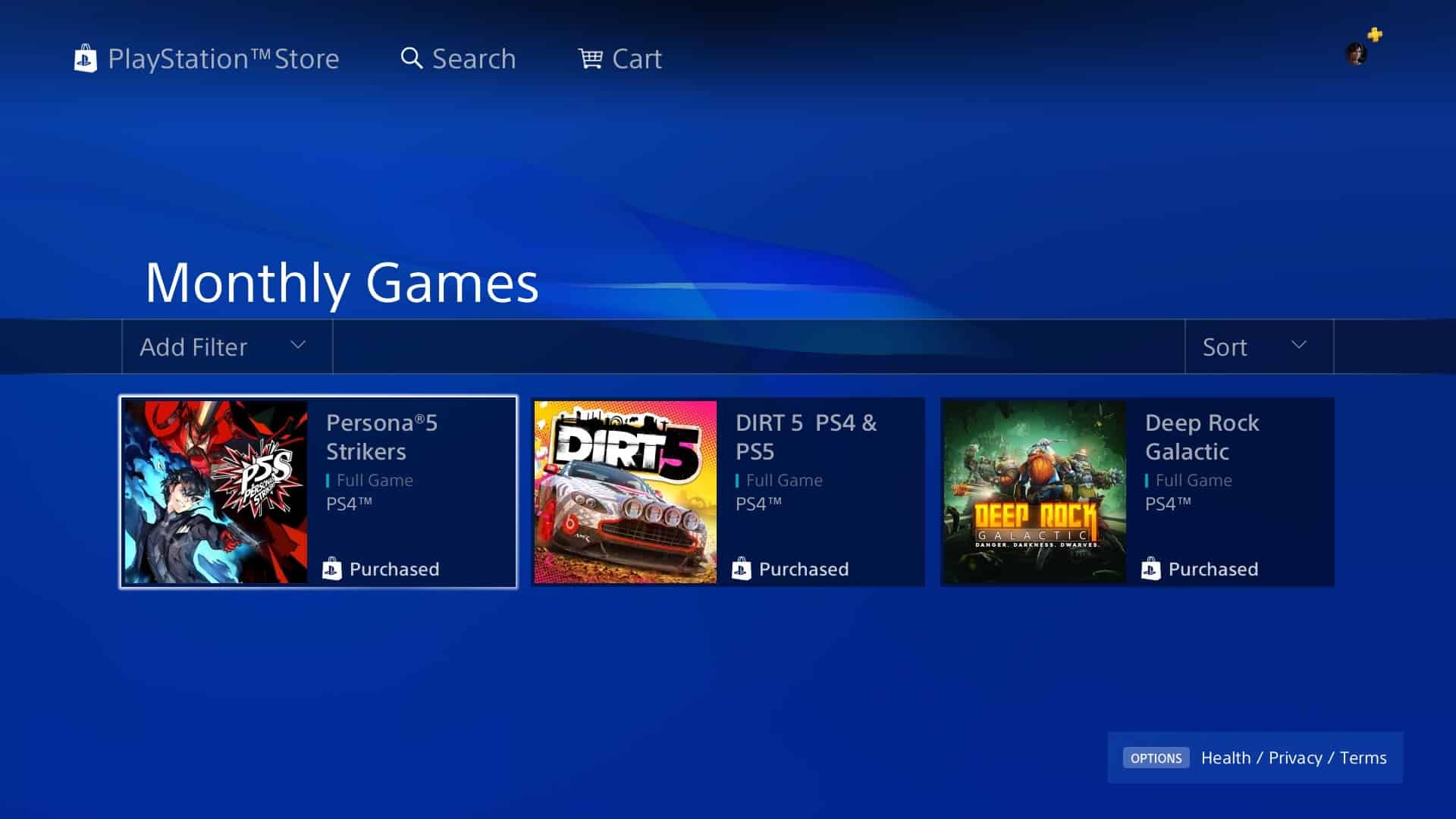 Persona® 5 Strikers was released by Sega worldwide in February 2021, so it's a pretty new game. In terms of mechanics, it's a combination of Koei Tecmo's Dynasty Warriors and Persona from Atlus.




DIRT 5 probably doesn't need any sort of introduction. It is a very well-known racing video game developed by Codemasters and released in November 2020. DIRT 5 is focused on off-road racing and players can compete in events in various locations. There's also a career mode where you compete against your rival called Bruno Durand in a series of championships.
Trivia: PlayStation Official Magazine  UK listed Dirt 5 as the 5th best game on the PlayStation 5, thanks to the 120 Hz refresh rate amongst other things.
Deep Rock Galactic is a lesser-known title developed by Ghost Ship Games in 2018 in early access and only released for PS4 officially in January 2022. Very new game. It's a 1-4 cooperative FPS game. You work with your team members to explore procedurally generated caves on a planet called Hoxxes IV. As expected, the game is PvE (Player vs Environment).
Missions have objectives like mining specific minerals, retrieving alien eggs, eliminating targets, or recovering lost equipment.
January 2022 PlayStation Plus Month Score
Overall, we give this month's selection a Good score, but it's barely any better than the past few months which have been pretty poor. The ad on the PlayStation Store states the games are worth 109.98 UK Pounds. While we do believe that is true, the selection is indeed pretty mediocre.
7.10 / 10 – Good
Thirsty for more PlayStation content? Check out out other articles, such as Best PlayStation 4 Settings and Tweaks to do in 2021 For Battery life and more!